Shockwave Therapy & Cold Laser for Rapid Musculoskeletal Pain Relief
Treat Pain Deeper & Faster.
Extracorporeal shockwave therapy (ESWT) technology encompasses the use of sound waves to transfer energy into dysfunctional  tissues. The tissues being tendon, fascia, ligament, muscle, and bone. At EastWest Physiotherapy we use a radial pressure wave device, which produces acoustic shockwaves to a depth of 5-6cm. Energy levels at depth are dictated by the settings on the machine and the applicator used. This energy input into the tissues reignites the body's natural healing process. The shockwaves are pro-inflammatory which is vital in regeneration at a cellular level.
Rapid Return to Fun & Function
At EastWest Physiotherapy we are delighted to encompass shockwave therapy into our process of healing.  We follow the Release Restore Retrain model of physiotherapy . Shockwave is involved in the restore phase . This phase aims to restore mobility and function into damaged and degenerative tissues (muscle tendon and fascia). Usually after 1-3 sessions a huge improvement in pain, power and mobility is achieved.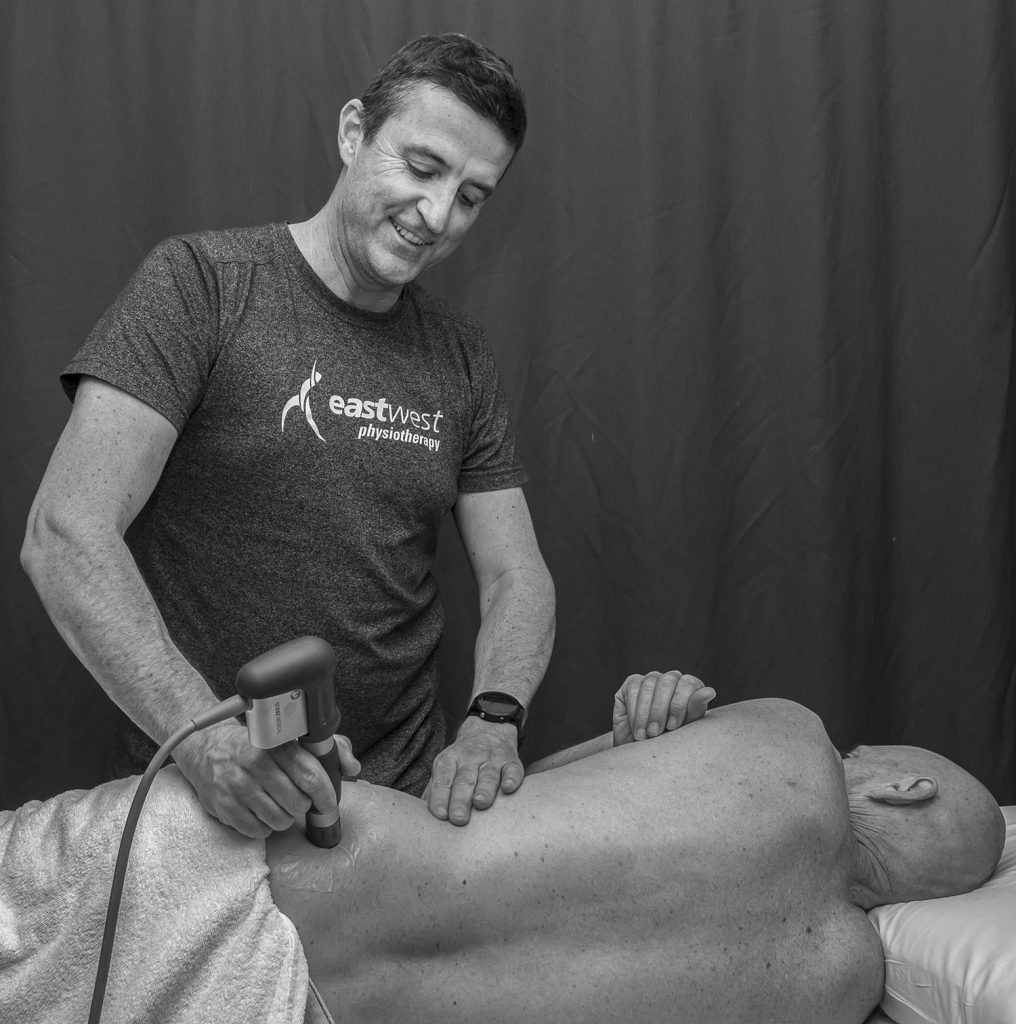 How does Shockwave Therapy work?
The normal healing process of the body occurs in four stages.
First the body responds to injury by bleeding, which is then followed by inflammation. Within a few hours to days, the third stage begins, known as proliferation, where new tissue is created to rebuild the injury. Finally, after a few weeks, the remodelling stage starts, during which the injury fully heals.
Of all these stages of the healing cascade, the most important is inflammation. Without it, proliferation and remodelling will not take place. In chronic conditions, something has gone wrong during this stage and proliferation and remodelling stages stall, preventing the injury to fully heal. The injury gets stuck in a dysfunctional and inflammatory cycle. Shock wave therapy reboots the process and recommences the healing cycle.

Benefits of Shockwave Therapy
Explore all the benefits provided by Shockwave Therapy.
There is no single treatment for each condition we encounter. At EastWest Physiotherapy we will evaluate the area that is giving you problems. We will make sure your pain is not coming from a nerve, and do our best to diagnose the cause of you pain. With this we can give you a time frame for recovery.  Shockwave as some contraindication or precautions that will be discussed prior to starting treatment. The use of real time ultrasound may be used to pinpoint the area that needs treating.
Practitioners at EastWest physiotherapy are skilled in myofascial manipulation. The principal Physiotherapist Gavin Johnston is a certified Structural Integrator. This means he has studied in depth the myofascial relationships within the layers of muscle, bone and nerve and how they perform the complex output of postural control. In light of this strong manual therapy background ,we will use the Shockwave much like any other manual therapy application.
We find the cause of your problem and then deliver the recommended dose of Shockwaves to that area. This may involve different applicators targeting different tissues within the one treatment.(For example treating the tendon first and then the muscle attached to it)  The Shockwave output can be adjusted for individual sensitivities to pressure and pain. 
Aftercare & Tissue Load Tolerance
After receiving Shockwave, it is advised to rest for 48 hours .This will give the area time to reboot. After this time, it is highly recommended you proceed with a loading program specifically targeted to the phase of healing you are in. Your therapist will explain what He/She wants you to do and will email you a exercise plan. 
Soaking in an epsom salt bath can be a great adjunct to Shockwave therapy. As is cold laser, acupuncture and heat packs. 
Explore all the conditions that can be treated by Shockwave Therapy.
Free Shockwave & Cold Laser Advice
Request a free 10 min telehealth consultation with one of our physios using our online booking portal.
Cold Laser Therapy is the non-invasive application of low power laser beams to enhance cellular functions. When Cold laser therapy is placed over injured, inflamed or aged cells, photon energy is absorbed by the mitochondria (the cell's battery). This improves tissue repair (skin wounds, muscle, tendon, bone, nerves), reduces inflammation and pain.
The benefits of Cold Laser:
Boosts oxygen levels
Inflamed or injured cells demand more oxygen to get healthy again. Applying cold laser therapy over blood vessels has been shown to release more oxygen to damaged tissues like a hyperbaric chamber effect.
Relieves inflammation
When muscles and ligaments are inured, inflammatory chemicals cause swelling and pain. Cold laser therapy drives your body's drainage lymphatic system to move inflammation out and back into circulation.
Speeds the healing response
Cold laser therapy reduces the formation of scar tissue and adhesions during the healing phase. This means stronger repair tissue, a faster recovery and the prevention of a re-injury.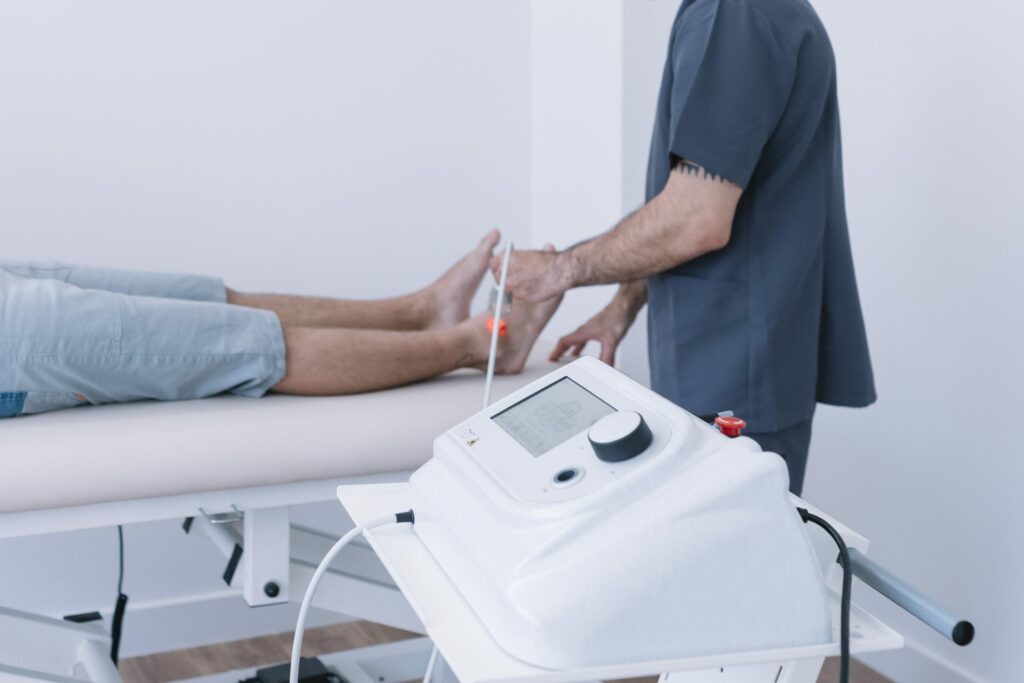 If you think Shockwave Therapy could assist you, make an appointment by calling 02 9817 1781, or book online using the button below.
Got a question? Please don't hesitate to get in touch with our friendly team.